Virtual Vintage Valentine Tea

Though some guests were miles apart, many gathered via Zoom for the annual Vintage Valentine Tea sponsored by the Irving Heritage Society on Sunday, February 13. Guests were welcomed by tea committee chair Karen Martin. Several guests came attired with their favorite hat and red outfit.
Heritage Society Past President (and past Sweetheart) Lea Bailey provided a pictorial parade of the past Sweethearts from over the years since the organization was founded in 1978. A musical serenade of "Let Me Call You Sweetheart" was sung by a male quartet from the Irving Silvertones made up of Woody Schober, Bob Harper, Will James, and Gary Schepf.
For those who could not join us on the virtual celebration, click below for to watch the recorded event!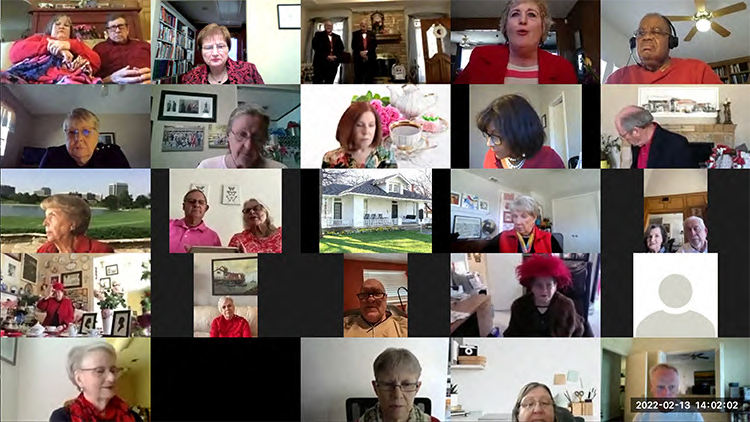 Artist Sharice Williams had made a "cutting" of a silhouette of one of the honorees and this video was shown to the guests. This unique art form is limited to a very few artists today. In just a very few minutes, the profile and details of glasses, necktie, and collar were captured by swiftly cutting them out of black paper with very small scissors.

As President Carol Little began to read the many contributions of service given to the Irving Heritage Society by the honorees, guests began to figure out the persons to be identified. Photos from over the years of participating with Heritage Society events were shared. Heritage Society 2016 – 2017 President Rick Stopfer and wife Melanie Stopfer were announced as this year's Sweethearts.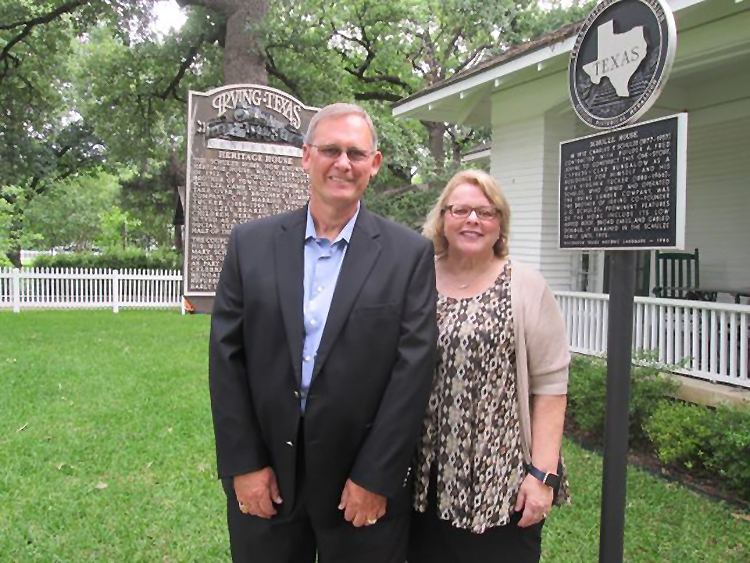 Recognition was given because of the many things that they have done for the Heritage Society over the years, and especially during the time that Rick served as President-elect and President (2015-2017) . Their interest and support continues today as well.

Last year's Sweethearts Cynthia Sharp and Bob Bourgeois asked the guests to raise their cup of tea for a toast to the new honorees. Flowers of Las Colinas served as a sponsor.

Check out this short video of Sharice creating a silhouette cutting of Mayor Stopher by clicking on the below image. Sharice explains as she works how she does these cuttings. She learned to cut these silhouettes when she was 15 years old. 3 years ago, she had done a caricature of Mayor Stopher at an event at the Heritage Senior Center. He mentioned it as he was sitting for his "cutting" and sure enough, Sharice had been that artist as well. She does a great job of capturing his features.