Mary's Playhouse Dedication

November 8
Mary's Playhouse is located in the backyard garden area behind the C.P. Schulze 1912 family home.  Originally a chicken coop, the structure was later converted into a playhouse for the young Schulze daughter, Mary.  As she grew up, Mary used the building as a quiet place for reading, writing and meditation.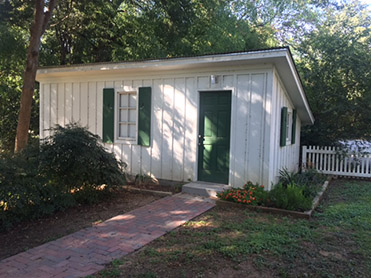 Over the years, the playhouse became over-run with vines, bushes and tree limbs.  As part of the Heritage House 100th anniversary, the rebuilding of Mary's Playhouse began.  A generous memorial gift by the family of devoted Heritage Society volunteer Mary Gardner kicked off the project, followed by donations from many other individuals as well as proceeds from the organization's Treasures and Oddities sales.  Vernon Proctor of Mart, Inc., along with F & F Concrete and the City of Irving made it possible to completely rebuild the structure using much of the shiplap pine interior which had been salvaged from the old building.

The interior of the playhouse reflects the early life of little Mary Schulze.  Items from Mary's room in the House and from the original playhouse were used to create vignettes to highlight the life and interest of Mary Schulze and her older brother, Charles.  A 19th century schoolroom bench has been placed in the playhouse for children to sit on while learning about the history of their community.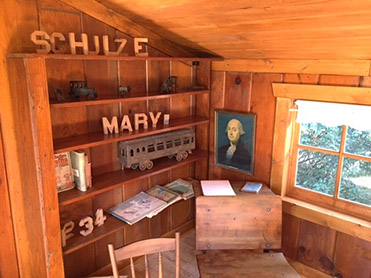 A dedication of the recently rebuilt structure will be held on Sunday, November 8 at 2pm, in the Heritage House backyard at 303 South O'Connor.  Refreshments will be served and tours provided following the program.  Young guests are especially invited to attend.

Mary's Playhouse will be open during the monthly first Sunday tours of the Heritage House during the months of March – December.  It will also be available for special tours upon request.  For more information, contact the Irving Heritage Society at 972-252-3838.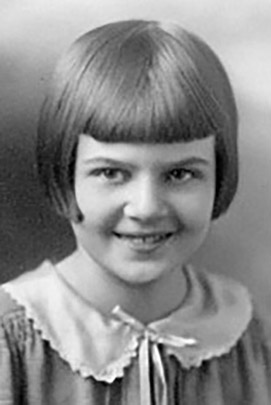 Mary Schulze