Paul Keyes Elementary School opened in 1952 as North Elementary School. The school's name was changed in 1953 to honor Paul Keyes. At first there were only two wings with 24 classrooms. The same architectural design that had been used at Schulze and John Haley Elementary Schools was used to build this school. Another wing and a library were added to the building in 1968. Two additional wings were added in the 1970s. In 1993 the school was enlarged, remodeled, and a new entrance was added to face Britain Rd.

In 1988 Paul Keyes Elementary was recognized by Instructor magazine as an A+ School (one of only five awards given that year).

The first principal of Keyes was Earnest Johnson. He was followed by William (Bill) C. Lawson, Homer Thompkins, Joe W. Cassel, Johnny Alford, Kenneth E. Tillman, Dwight C. Beavert, Arthur Wayne Reeves, Robert Nim Voelkle, Dianna Hopper, Chris Morgan, Irma Vega Zadeh, and Katiuska Herrador, and Rosa Avendano. The current principal is Blanca De La Sierra.

Paul Crawford Keyes was born January 12, 1883 in Bridgeport, Ohio. Mr. Keyes married Bertha Chenoweth on May 17, 1910 in Ohio. They had 3 children.

Mr. Keyes was a banker by trade. He spent his career working for the U.S. Treasury Department and the Reconstruction Finance Corporation.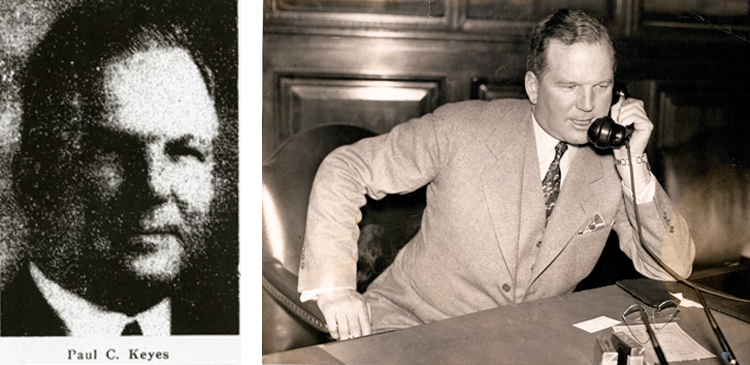 He came to Irving in 1945 shortly after World War II ended to retire. He became a home builder and land developer here. He served on the Chamber of Commerce. In 1948 he also represented Irving on the executive board of the County-wide Citizen's Association.

Mr. Keyes was elected to the Irving ISD School Board. He served as president of the board from 1948 to 1950 during a period of reorganization and expansion in the district. The land for the school was purchased as part of a program which he had envisioned and helped to develop. After his term on the school board expired, he moved from Irving to Dallas where he died October 5, 1952. He is buried in Restland Memorial Park in Dallas.

Source:

Research by Robert Nim Voelkle and Jo Ann Johnson.

Document "History of Paul C. Keyes Elem. School" written around 1977 from the Irving Archives, findagrave.com, "Growing Pains" article by Edwina Lynn Wilson found at Irving ISD History/Growing Pains, and Ancestry.com

This web page was created July 2016 and updated May 2017 by the Celebrating Irving Committee of the Irving Heritage Society in partnership with Irving Independent School District.

Photos used with the permission of Irving Archives, Irving Public Library.