Otis Brown Elementary School opened in September 1954. At that time is was called Southwest Ward Elementary School. It was renamed in 1958 after one of the city of Irving's co-founders, Otis Brown. It is located at 2501 Tenth St. Several additions have been made to the school since 1954.

The first principal was Choyce W. Robertson. He was followed by Mr. Pollan, Logan Stollenwerck, Glenn Duggins, Margaret Young, Virginia Lester, Kenneth Wages, Cindy Williams, Dr. Jackie Gorena, Dr. Adam Grinage, and Raymie Ramsey. Jason Barnett is the current principal in 2017.

Otis Brown was born October 6, 1872 in Swan Creek, Ohio. In 1902 he was working as a "rod man" on a survey crew for the Chicago, Rock Island & Gulf Railway. The railroad was surveying the area that was to become Irving as it was planning to construct a rail line between Dallas and Fort Worth.

Another survey crew member, J. O. Schulze, and Mr. Brown purchased around 80 acres of land along the proposed rail line from the Henry Britain family. The two men made some improvements to the land and then sold lots on December 19, 1903 to start the city of Irving. (Below — Photo 1: Rock Island survey crew: J.O. Schulze first on left; Photo 2: Schulze is behind the wheel, Otis Brown is the front passenger and Fred Joffre is in rear; Photo 3: Brown house on O'Connor, c.1905)


Otis met Arnetta* Barcus, a local schoolteacher, in the fall of 1902. Arnetta, or Netta as she was usually called, was living at with the Britain family while teaching school in the nearby community of Kit. Otis and Netta were married on June 24, 1903. They built the first house in the soon-to-be-established city of Irving at 101 South Hastings. In 1905 they built a larger house on Iowa Street (now O'Connor Road). They lived here until 1919. In 1914 Otis Brown became the city's first mayor. (Below — Photo 1: Otis and Netta Barcus Brown; Photo 2: Farm house on Pioneer, left to right are Earle, Stanley, Loyd, Nett and Lynn (front); Photo 3: Brown and Schulze on porch of Brown's first home)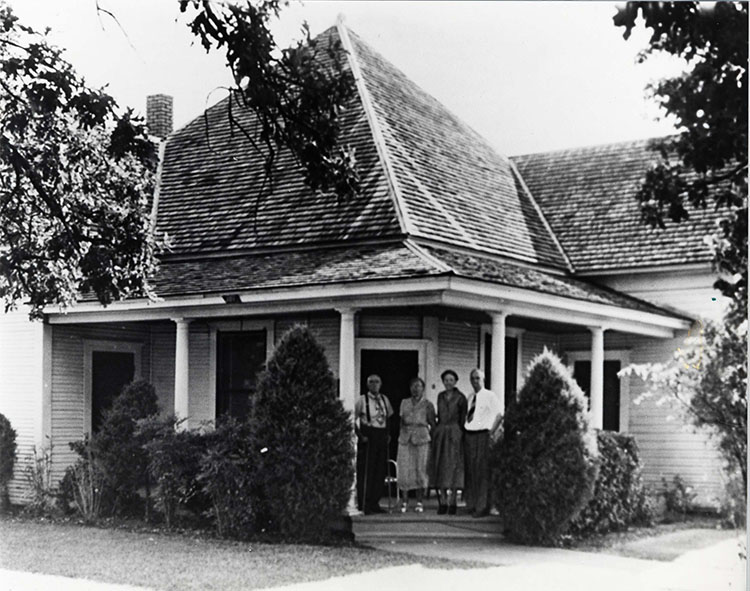 Mr. and Mrs. Brown had five sons. When the youngest son, Lynn, was five years old, Otis decided to move the family out to the country. Mr. Brown started a dairy named Shadylea Farm which was bounded on the south by the Rock Island Railroad tracks, on the west by Story Rd., on the north by Sowers Rd. (now Pioneer Dr.), and on the east by Irby Lane. In 1926 he sold the cows and started a nine hole golf course on the property. Later Otis Brown sold real estate.

The youngest son, Lynn, served as Irving's mayor from 1959-1967.

Otis Brown died in June 28, 1958 and is buried in Oak Grove Memorial Gardens.

On October 4, 2003 a statue of Otis Brown and J. O. Schulze was dedicated in Centennial Park near the present day South Irving Public Library.
Source:

Joseph Rice, Irving: A Texas Odyssey. Windsor Publications. 1989, Norma Stanton, Irving, Texas: From Rails to Wings. Donning Company Publishers. 2003, Find-a-Grave.com, Irving Archives (*including wedding invitation with spelling Arnetta)

This web page was created May 2017 by the Celebrating Irving Committee of the Irving Heritage Society in partnership with Irving Independent School District. Photos used with the permission of Irving Archives, Irving Public Library.